YOU NEED TO TALK ABOUT YOUR SITUATION? CALL US AT 450-651-5800.
How do I know if I am being abused? If you are asking yourself this question, there is a good chance you might be in an abusive relationship. Call 450-651-5800 and a counselor will be there to listen and help you.
Do I have to file a complaint? If there is any danger, call 911 immediately. The police is there to help you. There is no obligation to file a complaint, but it's important to ensure your own safety and the safety of your children. You can also call a counselor at Carrefour pour Elle at any time: 450-651-5800. She will explain how to proceed, answer all of your questions and/or refer you to the appropriate resources.
Physical violence: Altering the other person's physical integrity; pulling hair, shaking, clutching arms, slapping, shoving, hitting and causing injuries or bites, bruises, fractures, burns. Its presence often indicates that all other forms of violence are already present.
Emotional abuse: Denigrating a person's value. Sometimes expressed as a punitive relationship that consists of ignoring the presence of the other person or refusing to communicate, controlling, making excessive demands, threatening of abandonment or breaking valuable objects. 
Verbal abuse: Humiliating the other person with words of contempt, intimidation or threats of aggression. Use of coarse or offensive language and criticism.
Sexual violence: This is the type of violence most women stay silent about. Consists of submission to unwanted sexual demands and acts, often imposed after a violent argument, after being abused or brutalized.
Economic violence: Control and domination by a man who deprives his spouse of money, material goods or is excessively controlling the budget. He gives her money in a piecemeal way and according to rules he himself has established. For the working woman, her salary can be controlled by her spouse. Even when his spouse has left him, withholding alimony can be a way for the abusive man to try to maintain control over "his" wife.
Social and spiritual violence: Social control (limiting outings with friends, family, colleagues), isolation (excessive jealousy, being cut off from her network), being forced to practice the other's religion, control through the use of religious motives.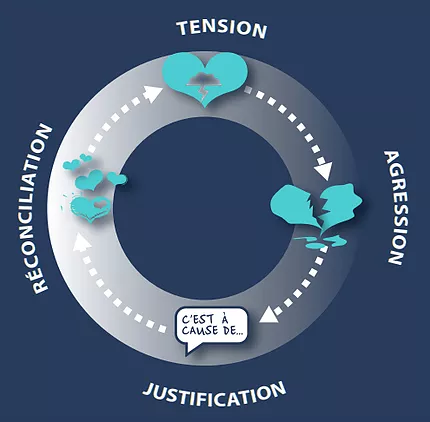 RECOGNIZING VIOLENCE IS THE FIRST STEP TO FREE YOURSELF FROM IT. THERE'S NO SHAME IN TALKING ABOUT IT. DON'T STAY IN THIS SITUATION, ASK FOR HELP.
Domestic violence is a series of events that occur in a cyclical manner. The cycle of violence (see diagram) consists of three phases; at least at the beginning, as the calm period gradually disappears. The repetition and intensity of the cycle of violence increase when we don't act. The faster the cycles get, the greater the danger.
Phase 1: Escalation of tension. Tension increases as incidents occur (frustrations or disagreements). Verbal and psychological violence set in. The woman feels worried like she's walking on eggshells to avoid conflict.
Phase 2: Explosion. Taking control through violence (verbal, sexual, emotional, and/or physical). The woman feels sad and humiliated. She's trying to understand a situation she considers unfair.
Phase 3: Justification. The spouse finds excuses outside himself (alcohol, work, stress) to justify his behavior. He blames the victim for provoking him. Doubt settles in the victim, she comes to feel responsible for acts of violence against her.
Phase 4: Calm period. The spouse is trying to make it up to his partner, asks for forgiveness and is making an effort to maintain the relationship. Hope settles, she gives him a chance, she changes her own habits. She wants to believe that he's going to change. This honeymoon period may last a few days or longer, but the more violence takes hold in the relationship, the shorter this phase will be.
And the cycle starts over…
Credit: City of Longueuil « Quand on s'aime on s'aime égal » 2012. (In collaboration with the Service de police de l'agglomération de Longueuil, Carrefour pour Elle, Pavillon Marguerite de Champlain and the Table de concertation des groupes de femmes de la Montérégie)